Today we want to show you more about a couple of new features in Poker Analytics 4, two additions to the session screen.
Game selection control
You might have already noticed, but when you create a session, Poker Analytics shows you a micro report at the top of the screen.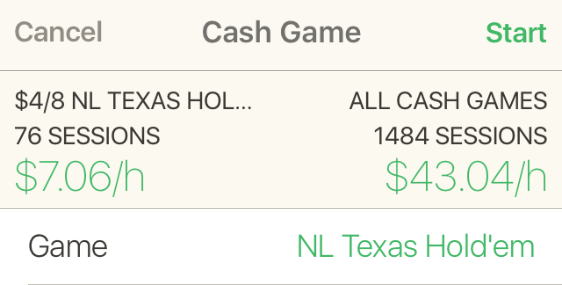 The app shows you two statistics:
On the left, you'll see the hourly rate for the type of session you are about to start. We're taking into account:
the stakes
the game
the format
whether you're playing live or online
On the right, you'll see the hourly rate of all your cash games sessions if you're about to start a cash game, or the hourly rate of all your tournaments if you're about to start a tournament.
It's a great tool to familiarize yourself with the hourly rates of the different kind of games you're playing, thus making you better at selecting the best games for you.
You'll also be able to see if you're taking good decisions when starting a game. If you're starting to take shots at a higher limit, you'll quickly be able to see if these games are more profitable than your previous games.
Bankroll variation
In the same fashion, at the end of each of your sessions, you can see your bankroll variation in the first section of the table. Please note that this is only displayed for the last session.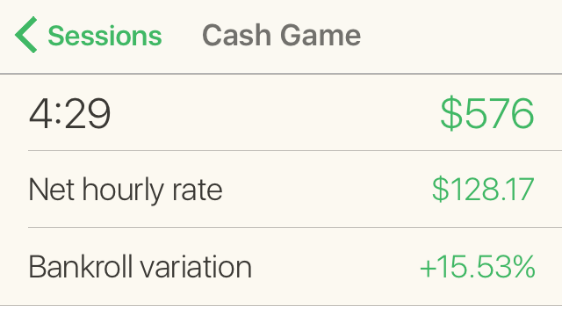 This is a great indicator to make yourself aware of how you manage your bankroll.
Heavy variations are an indicator that you might play above reasonable and that your chances of going broke are high. It can also be the results of a great performance in a tournaments, congratulations!
If the line is not showing up, it means your bankroll is in the red. You'll probably want to learn more about bankroll management as it might be the most important poker skill you need to be a successful poker player.
If you feel some of the numbers you see in these statistics are unusually high, it might be time to take a step back and make some adjustment. Playing one level below might be better both for your hourly rate and your bankroll health!