Hello,
The new Poker Analytics 4.1 is available on the App Store! Here are the new features:
Hand history keyboard (beta)
In the players list, players now have their picture next to their name
It's finally possible to specify the year for your past sessions.
Already unofficially added, the 200 threshold of displayed sessions has been raised to 500.
We've added the hourly rate for sessions with multiple records.
The duration is added in the cell of sessions with multiple records.
A couple of details on the hand history keyboard:
We're releasing a new custom keyboard. What does it mean?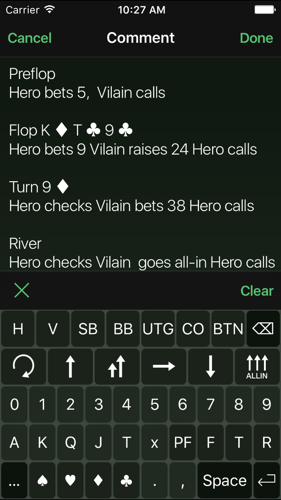 Now, in any textfield throughout iOS, whether it's in the Messages, Mail, Twitter app, or simply Poker Analytics, you'll be able to access the hand history keyboard to write hand histories as fast as possible.
In order to use it, you'll need to install it first. Go in the Settings of your iPhone. Tap on General > Keyboard > Keyboards > Add New Keyboard… and select Analytics 4.
To access it, you just pass through the different keyboard the same way you access the emoticon keyboard.
So why beta? We're releasing the keyboard only in english for the moment, and we want to gather your feedback before making it evolve if necessary. Contact us if you have anything to say!
That's it, we hope you'll love it! Have fun at the tables!