Hello!
We're super excited with the release of this version as it might go down as having a huge impact for cash game players around the world.
Let's jump into the new features:
Cash game stop notifications
In Poker Analytics 4, we've added the duration report, which showed you the impact of duration of your results.
Now, we're using the engine to estimate the time where you start getting tired, and we're sending you a notification telling you that.
This is very important for several reasons: the app gives you back time and keeps you away from higher risk of tilt when you're tired. More on it in another detailed post later!

Players
Also introduced in version 4, the players notes are seeing a couple of improvements:
We are adding the ability to set a color to players, in order to classify them. You'll have 8 colors to choose from.
You'll now be able to search for players in the players list, using their name or a part of a note you've taken.
Shortcuts
Users having 3d Touch on their device have access to shortcuts on the app icon:
new cash game session
new tournament
new hand
new player note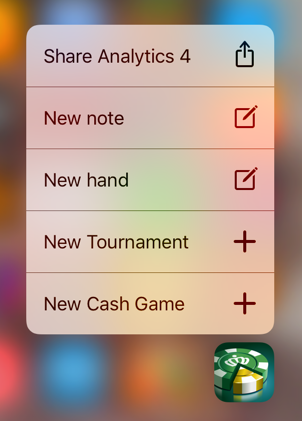 Data indexing
Your data starts to be locally indexed on your device. What it means is that you'll be able to search for sessions, players or hands using Spotlight search.
That's it for 4.2! We hope you'll love it. As always, don't hesitate to tell us what you think, and please crush the tables!