It's finally here, freshly released on the App Store!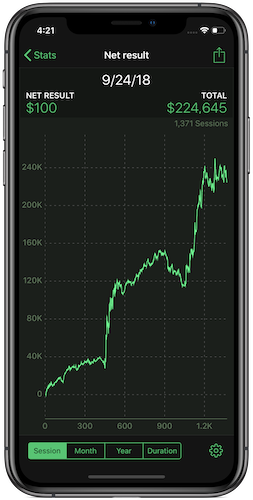 First of all, we'd like to thank all beta testers! We've fixed a lot of bugs thanks to you, and all your comments has been very helpful.
This version is the result of all the feedback accumulated through the years. We know some features has been asked since a long time and we're very happy to finally bring them to you. We've tried to bring you a fastest, clearest, more comprehensive and more complete app to show you the most meaningful poker statistics we can. There are changes on all sides: user experience, graphics, and of course lots of features.
Poker Analytics 5 is a free update. If you use automatic updates, maybe the app has already been downloaded on your device! Otherwise, rush the App Store and update the app now!
Feed
We've completely redesigned the History tab for a better user experience. In this brand new tab, you can add your sessions, hands and transactions in one tap, bringing you a much faster experience for your most frequent needs.
You'll now see not only a list of sessions as before, but we're also showing your hands and transactions. And if by any chance you just want to see sessions, you can filter by data type, and have a view similar the previous version.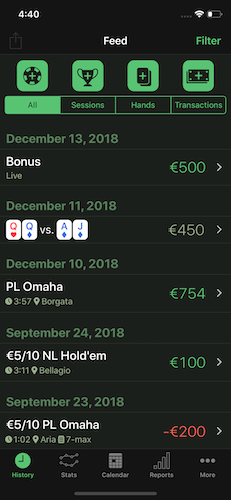 Calendar
We're introducing a brand new tab, the amazing Calendar. In this new view, you'll be able to quickly compare different stats by month and by year.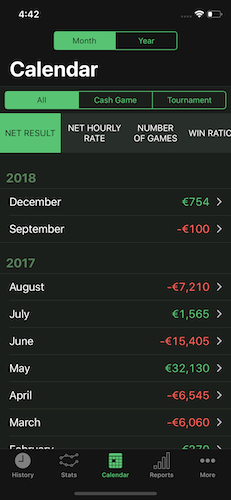 After spending a lot of time playing with stats, like us, you will want to tap on any row to have a detailed report of the time period you've selected. Lots of new stats and graphs just for you!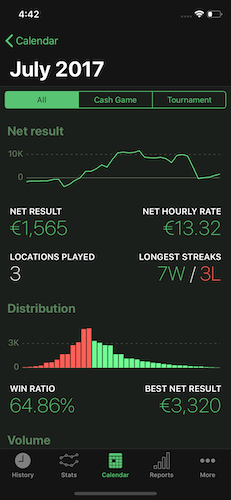 New stats like longest win & lose streaks, days played, number of locations played, the beautiful new distribution graphs, you'll get a detailed view of each of month and year you played! Tap on the graphs to get a full screen view!
Stats trends
We've made a great addition to the Stats tab. You'll now be able to see how you perform on the short and long term with new dynamic filters which will show you the variation of your stats!
Bankroll
We've added the heavily requested bankroll graph: check the evolution of your bankroll using your sessions and transactions. Tap on it to get it full screen.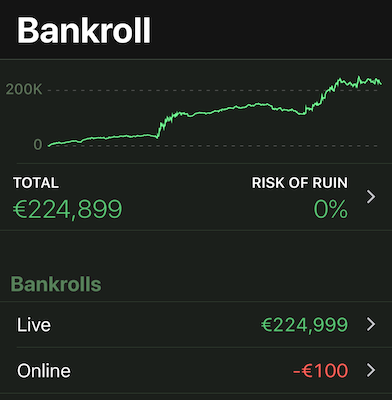 Graphs
We've improved the look and behavior of graphs, most graphs to be more precise.
You can now zoom inside a graph using the pinch gesture
You can rotate your screen when looking at a full screen graph
Line graphs are getting an X-axis for your readability comfort
Player
The player view has been refactored for better ease of use. Comments, hands and sessions are now put in separate tabs so you can better search for what you're looking for.
Top 10
The cells have been redesigned to beautifully display your best performances.
Graphic changes
More change on the graphical side. Colors, fonts, background, everything has been fine tuned to make your data look great!
---
You'll find a few more changes here and there, but that's it for the main changes! Now it's your job to tell us what you think, please take the time to write us a word on the channel of your choice to give us your feeling about this version. We also want you to know that seeing screenshots of the app on the various social networks we follow make us very pleased and very proud each time we have the chance to find them!
Thanks again for being part of the community!